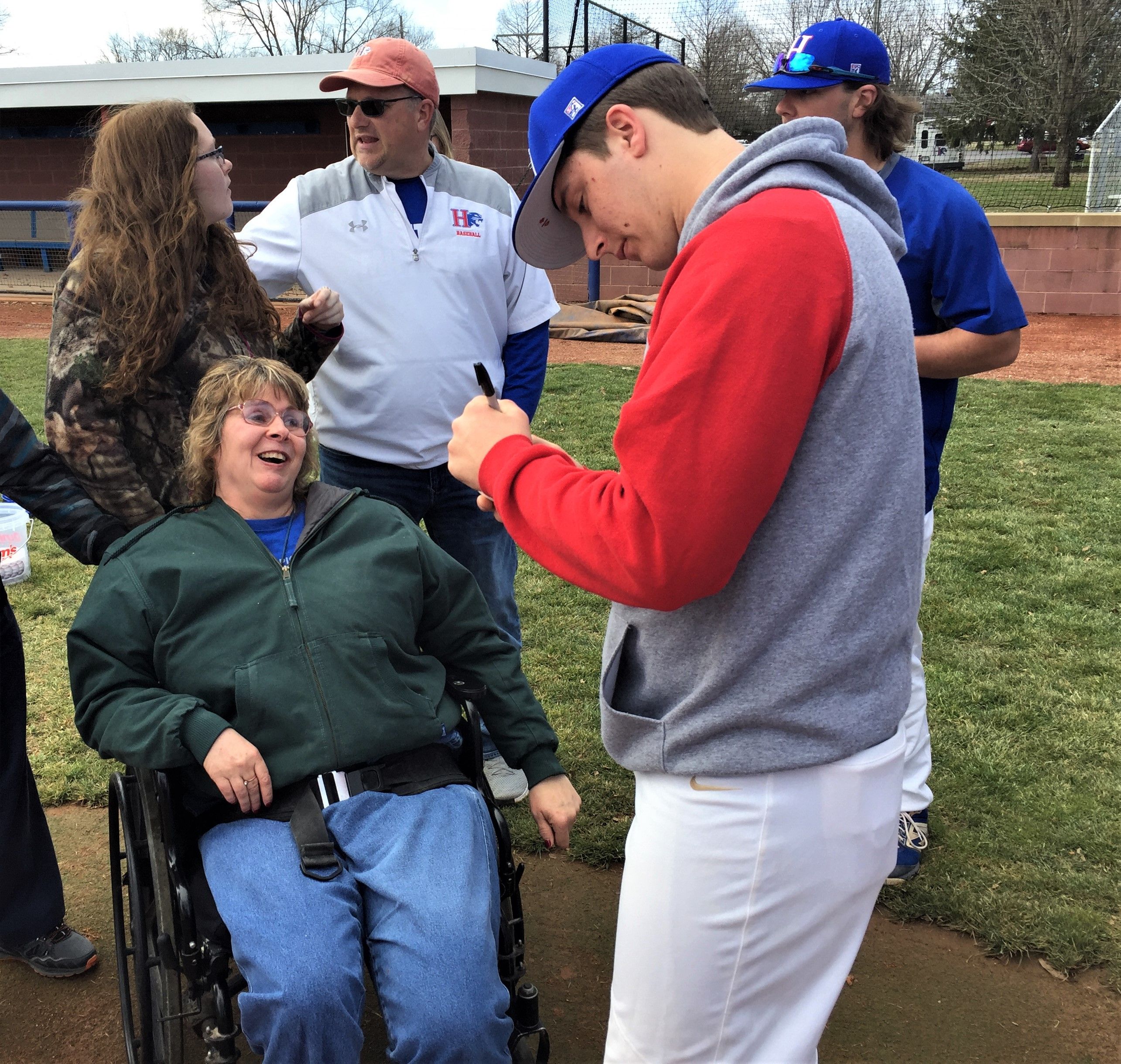 Jodi Davis of Greensburg is all smiles as she gets her baseball autographed by freshman Dakota Metzinger. (photo by Tom Harpring)
Hanover baseball team welcomes DSI clients at home opener
DSI got some Hanover College Hospitality from the Panthers baseball team Wednesday at Dick Naylor field in Hanover, Indiana.
Developmental Services, Inc., a non-profit provider of services for individuals with disabilities brought more than 60 of its clients from Madison, Columbus, Greensburg, Scipio, and Seymour to watch the Panther's home opener play Spalding University of Louisville Ky.
Hanover lost to the Golden Eagles 5-4 but they certainly won the hearts DSI clients – some of whom had never been to a baseball game before.
"Football is my favorite sport, but I really love Hanover now," said Sean Beatty, a client at DSI in Madison who threw out the ceremonial first pitch – a strike to Panther senior Brayden Imel. "I really want to come back and see more games. The team is awesome!"
Indeed, the young men of Hanover made the DSI clients feel like members of the team as they were allowed to hang out on the field with the players for lively conversation, fist bumps, and an autograph session.
"Everyone got a signed baseball from the players," said DSI CEO Shane Burton, whose son Charlie is the team's catcher. "Coach (Grant) Bellak and his staff and the players have been wonderful. Our mission is to help individuals with disabilities live their lives to the fullest and our clients will remember days like this for a lifetime."
When asked what her favorite part of the day was, Jodi Davis of Greensburg said without hesitation it was going around the bases – something all the DSI clients were invited to do before the game.
Although she uses a wheelchair and needed assistance to be rolled around the diamond, Jodi said it was the thrill of a lifetime.
"I felt like I hit a homerun," beamed Jodi.
That's something the entire Panther team can celebrate.
Column 1 Placeholder Content